---
Home Page
Products
Documentation
CAD Support
Download
Purchase, Price list
Contact us
Support
---
---
---
07/10/2017
Released MITCalc 1.73
04/01/2016
Released MITCalc 1.72
08/29/2014
Released MITCalc 1.70a
01/21/2014
Released MITCalc 1.70
01/31/2013
Extension Pack - EP08
08/31/2012
Released MITCalc 1.61
06/14/2011
Released MITCalc 1.60
01/10/2010
Released MITCalc 1.51
01/28/2009
Extension Pack - EP07
Service Pack - SP06
09/15/2008
Released MITCalc 1.50
07/03/2007
Released MITCalc 1.40b
Products > Bevel gear (straight, helical, curved)
The calculation is designed for geometric and strength designs and checks of bevel gear with straight, helical and curved teeth. The software gives solutions to the following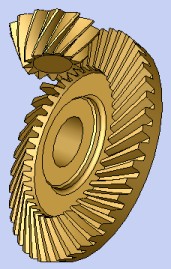 tasks:
Calculation of helical and straight toothing.
Automatic design of a transmission with the minimum number of input requirements.
Design for entered coefficients of safety (static, dynamic).
Calculation of complete geometric parameters (including corrected toothing).
Calculation of strength parameters, safety check.
Supplementary calculations (calculation of parameters of the existing gear, temperature rise, design of shafts)
Support of 2D and 3D CAD systems.
The calculations use procedures, algorithms and data from standards ANSI, ISO, DIN, BS and specialized literature.
List of standards: DIN 3971, DIN 3991 Kegelradern 1-4, ISO 6336 1-3, DIN 3965 Toleranzen für Kegelradverzahnungen 1-4, ISO 1328, DIN 3990, ANSI B6.1-1968, AGMA 2001-C95, AGMA 908-B89/95, AGMA 2003-A86/88, AGMA 2005-B88 and others.
---